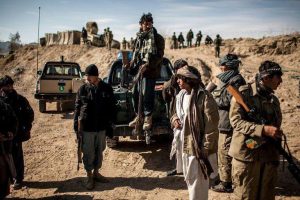 180 to 200 irresponsible armed people in western Badghis province joined the Taliban group due to lack of attention by the local government as well as financial-military problems.
According to DID news agency report, these people are from the "Qades" district of Badghis province who joined the Taliban group due to having problems, said deputy of the provincial council Farid Akhizi.
"A number of elders in Qades district of the province had a meeting with the Taliban commanders to solve the security problems regarding the issue," the official added, saying that "these people attended the Taliban group with their personal and military weapons."
According to him, the exact reason why these people have joined the Taliban is the lack of attention by the Badghis local administration.
"The world's powerful countries specially America, China, and Russia have a key role in supporting terror groups such as Taliban," Mr. Akhizi further said, "America has a plan to insecure and destroy Afghanistan by the next 50 years, so that its fundamental interests will be fulfilled." He underlined.
According to him, if Afghans themselves do not pay attention, the enemies can carry out their plans in this territory well.
On the other hand, Ghulam Sarwar Haidari, the commander of police in Badghis said the security organs are ready to destroy Taliban bases in Qades district of the province, adding that 300 intelligent and security forces are managing to retake areas which are controlled by the Taliban.
There are reports that Qades district of Badghis province has been insecure since 2015.