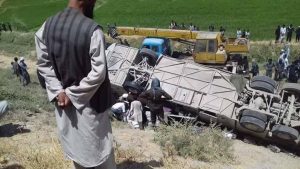 At least 21 people were killed and wounded as a passenger vehicle ran off the road near Pul-e Khumri city, police in Baghlan province said.
Zabihullah Shoja, Baghlan police spokesman said: "the incident occurred around noon on Sunday (23 July), in Kelagai area, near Pul-e Khumri, the capital of Baghlan province.
"The passenger car was going from Kabul to Mazar-e Sharif," he added.
"The exact number of casualties in unknown, but 5 people were killed and 16 others wounded so far," Baghlan police spokesman said.
Women and children are among the killed and wounded people.
Baghlan police spokesman blamed the driver of being careless while driving.
Kabul-Mazar-e Sharif highway is one of the country's busiest road, where traffic accident occurs annually on this road.