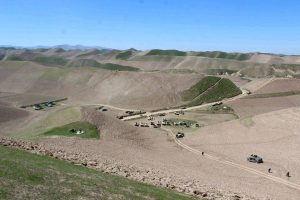 25 scaremongers, including a key commander of oppositions were killed and 34 others wounded, during "Alburz 1" operation in the province. Sar-e-Pul officials reported.
According to (DID) news agency report, yesterday, Muhammad Zaher Wahdat, Sar-e-Pul governor, at a press conference said that Qari Sher Muhammad, known as "Ghazanfar" a well-known commander of Daesh in Sayyad district, was killed with three of his companions in border areas, between Sayyad district of Sar-e-Pul and Darzab of Jawzjan, and 7 others were injured.
"25 scaremongers have been killed and 34 others wounded since launching "Alburz 1" operations." Sar-e-Pul governor said.
"5 Taliban insurgents were killed and 10 others wounded during last day," he added.
"In addition to Taliban, ISIS terrorists and foreign nationals are also fighting against government forces in Sar-e-Pul province." he stressed.
Sar-e-Pul governor urged from central government and security sectors to deploy more troops to the province and increase air strikes.
It is noteworthy that some days ago, another well-known commander of scaremongers called "Mustahab" had been killed during the operations.