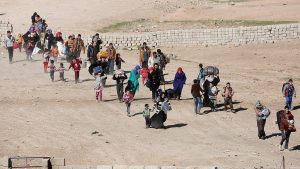 About 250,000 displaced people returned to their homes in Mosul, the Iraqi embassy vowed.
"About 250,000 Mosul residents returned to their residential area after Ninawa's liberation operation in October last year," Iraqi minister of immigration Jassim Mohammad Al-Jaff said in a statement yesterday.
Iraqi Minister of Immigration said that 34 thousand and 902 Iraqi people returned to their homes in Mosul last month, and more than 49,000 residents of Ninawa province were displaced last night. As a whole 952 thousand and 621 people had been displaced since the beginning of Ninawa operation.
According to al-Jaff, during this period, 42,462 from Hawijah in the southwest of Kirkuk and 24,595 people from Salah al-Din province were forced to leave their homes.
The United Nations had warned about the displacement of about one million people from the two million population of Mosul since the beginning of anti-Daesh operation in this city.
Iraqi Prime Minister Haidar al-Abbadi announced July 10 that Mosul has been released from ISIL/ISIS after nine months of conflict.