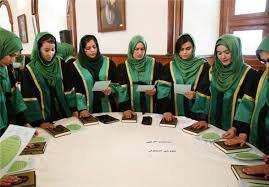 Yesterday, (Thursday, March 28th), the association of women judges (AWJ) gave notice about the significant increase in women judges in the country.
The association said that the number of female judges reached to 260 people in the country.
Now 260 female judges are working in the country, according to the association. Quoted from (Tolo news).
Shakila Abawi Shagarf, head of the Afghan women judges association (AWJA), says that the number of women judges from zero at the time of Taliban, has increased to 260 people.
He said that out of 260 female judges, 225 people is working in Kabul, 21 people in Herat, 11 people in Balkh, two in Takhar and one in Baghlan province.