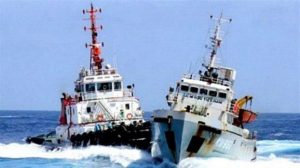 An Iranian oil tanker collided with a bulk freighter and caught fire off China's eastern coast late Saturday, authorities said Sunday.
The missing, 30 Iranians and two Bangladeshis, are all from the tanker Sanchi, which spilled oil and was floating while still burning early Sunday, said Chinese maritime authorities.
According to the National Post, the Panama-registered tanker was sailing from Iran to South Korea when it collided with the Hong Kong-registered freighter CF Crystal 257 kilometres from shore late Saturday
It wasn't immediately clear what caused the collision.
An official in Iran's Oil Ministry told The Associated Press that 30 of the 32 crew members on the ship were Iranians.
"We have no information on their fate," he said. "We cannot say all of them are died, because rescue teams are there and providing services."