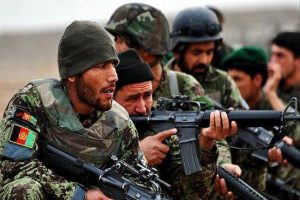 At least 40 army soldiers were killed in Taliban's assault on a security base in Qandahar's Khakrez district, local sources in the province said.
A security source who urged to remain unknown, said that the Taliban's attack began last night and 10 soldiers managed to escape the conflict.
He has said there could be more than 40 deaths as the bodies of a number of soldiers remained at the site of the conflict.
Meanwhile, the ministry of defense confirmed the attack, and said: 26 soldiers were killed and 13 others were injured.
"The Taliban's assault on the base was heavy and the conflict is underway right now," the deputy spokesman of Afghan defense ministry, Mohammad Radmanesh said.
According to Mr. Radmanesh, the assistance forces have been deployed to back off the Taliban's attack.
On the other hand, Taliban group besides confirming the attack on the army base in "Karzali" area of Khakrez district, claimed that they have killed 74 ANA soldiers and arrested 6 others.
Afghan ministry of defense has vowed that it has sent a delegation to Qandahar to investigate the incident.