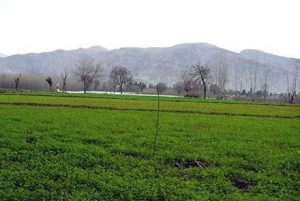 Ministry of Agriculture and Irrigation on Tuesday signed contracts for 15 new irrigation networks to the value of more than $70 million AFs.
The contracts were signed with private companies in Kabul and the new networks are to be built in six of the provinces. The new projects add to the ministry's objectives of more than doubling the country's irrigation network in two years. Quoted from (Tolo news).
Last year 113 irrigation networks were built in different provinces of the country and this year it plans to build 120 others, the ministry said.
Assadullah Zamir, agriculture and irrigation minister said once the new 13 networks are built, 40% of irrigation water loss will be prevented and that agriculture products also will be increased by 20 percent.
"In the irrigation field, we work on two courses of action. The first is create irrigation networks and the second to establishing irrigation unions that will have the responsibility of looking after the networks. These 15 networks will be built in six provinces of the country," Zamir said.
Farmers have said building these networks play a vital role in irrigating agricultural lands.
"Before we used to spend two to three hours irrigating our lands and after the projects were implemented, land irrigation become easier and helped in increasing our crops," said Sultan Ahmad, a farmer.
"These projects are useful in preventing water from going to waste and to irrigating agricultural land effectively," said Parwiz Nasir, director of Water Management on fields.
By implementing these 15 new projects in six provinces, more than 12 acres of agricultural lands will be irrigated through these networks. Some 14.000 farmers will use the networks for irrigation, the ministry said.