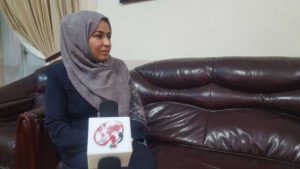 Currently, addicted women are sexually harassed due to the cost of their drugs and the number of addicted women in Herat province are about 60, 000.
Many women in some "governmental and non-governmental" agencies in Herat province are unwillingly harassed and sexually abused and … of some people of the community.
Some of these women are silent for their dignity and honor of their family and some commit suicide.
"Women are not free in some governmental offices and sometimes are harassed by social anomalies," Monesa Hasanzada, the provincial deputy of social affairs in western Herat province told in an exclusive interview with DID press agency.
"Currently, addicted women are sexually harassed for drug-related costs, and the number of addicted women are 60,000 in Herat province," the provincial official said.
"Nevertheless, Herat's local administration has taken measures to eliminate this social problem," Ms. Hasanzada added.
Women's Role in Herat's Governmental Offices
According to Ms. Hasanzada, the assistance office of Herat governor is working 24 hours to improve the role of women in state offices.
According to her, there have been talks with officials, heads of government departments and central government to increase the presence of women in Herat state offices.
"There are educated women in Herat province who are currently unemployed due to lack of attention by officials," she stressed.
The provincial official further added one of the goals of the provincial social affair's assistance office is to strengthen women's role in governmental offices.
For more than a month, Ms. Hasanzada has been appointed as the deputy of social affairs of Herat's governor, during which time, many social-cultural commissions and committees have been created to facilitate ways for the people.
Hhow much these plans can be effective for the people of Herat province than previous programs, the elapse of time will prove it.