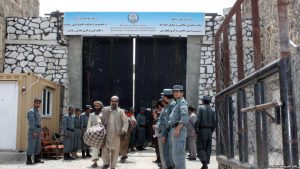 75 Hizb-e-Islami members who had been imprisoned in Pul-e-Charkhi prison in Kabul were released by the Afghan government on Thursday, officials confirmed.
It is said, the prisoners were released in accordance with the peace agreement between the government and Hizb-e-Islami last year.
Hizb-e-Islami claims that there are 3,000 of its members being held in Afghanistan's prisons.
The process of releasing the prisoners has been delayed for months after human rights organizations criticized government for agreeing to the move, saying the political prisoners had been involved in insurgency incidents resulted in death of civilians.