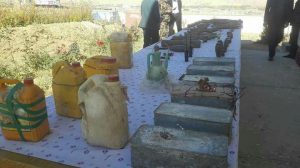 Afghan National security forces discovered a large Taliban's weapons and ammunition depot in Bamiyan province, local officials of the province said in a statement.
According to DID news agency report, a large amount of weapons and ammunition were discovered and seized by Bamiyan's national security directorate in this month, said the statement.
During the operation, Bamiyan national security forces have discovered 5 barrel of mines equipped with remote controls, 9 anti-personnel mine, 4 different types of generates, 9 Havan, 2 box of pica, 2 transmitter machine, 10 rocket launchers, 8 different pistol, and a Kalashnikov.
This is the second time that Bamiyan national security directorate has discovered arms and ammunition of the armed oppositions in the province.