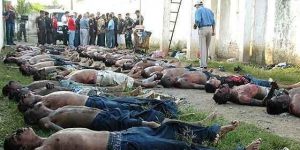 2 to 3 thousand Muslims were killed in the recent 3-days attack by Myanmar army in Rakhine state, a spokesperson for Europe's Rohingya council said.
Anita Schug, the EU Rohingya council (ERC) in an interview with Anatoly news agency said: "in the recent 3 days attacks by Myanmar army in Rakhine, 2 to 3 thousand Muslim were killed."
"The massacre of Myanmar Muslim people has risen by hundred times. The situation has never been critical this way," the spokesperson added.
Expressing that we face a silent genocide in Rakhine, EU Rohingya council spokesperson stressed: Between 900 and 1,000 Muslims were killed in a massacre broke out yesterday in the village of SaoPara Rathahong, where only one boy survived.
Meanwhile, the United Nations also said that the Myanmar Muslims are deprived of their citizenship rights by the administration of the country, and consider them as "the minority religion that are exposed to the most human oppression in the world."
On the other hand, Nour al-Islam, head of the National Arakan Rohingya Organization (ARNO), said at the headquarters of the organization in London that an independent commission should be set up to investigate the massacre of Muslims in Arakan, Myanmar, and to implement the recommendations of the UN Special reporter on Rohingya Muslims, led by Kofi Annan.
It should be said that Rohingya tragedy was emerged between Buddhists and Muslims, following a broke out clashes in Myanmar in 2012. A large number of people, most Muslims were killed during the clashes; hundreds of houses were burnt and thousands were forced to abandon their homes due to violent incidents.
In this regard, the United Nations High Commissioner for Human Rights (UNHCR) is also concerned about the incident, calling on Myanmar government and security forces to calm down and respect human rights during the implementation of security measures in Arakan.