ISIS boss Abu Bakr al-Baghdadi has fled to a remote hide-out in Africa and is the crumbling terror group's last leader standing, it has been claimed.
---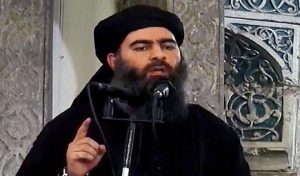 Hisham al-Hashimi, an Iraqi expert on the warped death cult, said all the founders of ISIS were now dead leaving al-Baghdadi cowering in the shadows.
According to the Sun, the terror leader has escaped from Iraq and is holed up in Africa where he hopes to revive the fortunes of his regime.
Sameh Eid, an expert in the Jihadist group's affairs in Egypt, said Baghdadi was likely to be in Africa, after the group members fled Iraq and Syria.
Meanwhile, Najeh Ibrahim, former leader with Jamaa al-Islamiyah, said Baghdadi could be somewhere like northern Chad or the lawless border area between Algeria and Niger.
Intelligence agencies in Iraq and Europe believe that for most of the past 18 months, Baghdadi was based in a village south of Baaj in northern Iraq.
The depraved terrorist has also travelled between Abu Kamal, on the Iraq-Syria border, and Shirkat, south of Mosul.
When the battles intensified in the city the senior leaders and those close to Baghdadi all fled, leaving these fighters behind.
Earlier, Russian troops announced that Baghdadi may have been killed in Russian airstrikes, but NATO channels did not endorse or deny Russian military claims.