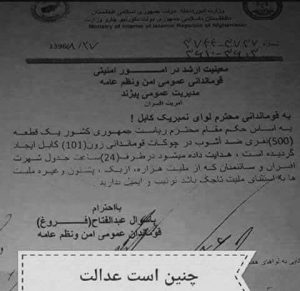 Sayed Alireza Mahmoodi, the chairman of National Society of Afghanistan people (NSAP) criticized the performance of governmental offices, saying governmental agencies and civil services are acting politically; which is against the laws, and if the current situation continues, the Afghan people will no longer refer to governmental offices to resolve their problems.
According to DID news agency report, Mr. Mahmoodi said, civil servants have failed to fulfill their duties well due to the weak leadership of the governmental entities.
"The cause of all challenges in terms of services to citizens of the country is the lack of proper monitoring by the parliament," said the head of NSAP in an interview with Tolo news' Mehwar program, accusing the national unity government of bringing up such situation.
"As Arg palace monopolized the power, it allocates the qualifications to specific high-ranking individuals, and the division of qualifications have not been properly implemented," he added.
Meanwhile, in another part of his rhetoric, Mr. Mahmoodi stressed, there is not any encouragement and punishment within governmental offices which is a violation and it will become larger every day.
"The high-ranking people do not carry out their duties, instead, they devise plots against political figures and ethnic leaders," the political critique of the government underlined, adding: "ethnic, discriminatory, and linguistic issues are bold in governmental offices and the presidency has no solution to overcome the problem."
According to the chairman of NSAP, the national unity government gives a violent response to public movements and chokes the democracy.
"The presidency and its particular circles do not have the capacity to work with their opponents, seeking conspiracy against them," he said, speaking about the formation of political coalitions in the country.
This political figure criticized the performance of the people's representatives in the parliament, stressing the MPs are busy with their own political programs, and the issue of serving the people has been forgotten.
"When the people vote to members of the parliament (MP) for the sake of money, the MPs will do the same with the ministers," Mr. Mahmoodi emphasized, saying that only a parliament with national figures can monitor the government's actions.
This comes as Mohammad Ashraf Ghani has recently said the governmental offices are not dedicated to a specific address, and all citizens of the country have the right to work and receive services.