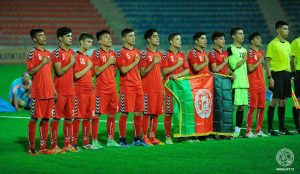 Afghanistan national youth football team overtakes Kyrgyzstan in its second match in the frame of "Central Asia" championship.
The teenagers who first passed the host's barrier (Tajikistan) on Tuesday evening (4 July) defeated Kyrgyzstan by 3-1. According to (DID) report.
Afghanistan, Tajikistan, Kyrgyzstan, Turkmenistan and Uzbekistan participated in the first AFC Under-15 football competition.
This tournament will be held in the form of a league and the team that earns the highest points will become the champion.
The national football team under -15 will be fighting Turkmenistan on Friday in their third match.