The war was not yet over when peace was given a chance in Afghanistan. But after a brutal start to the year, it's time for a strategic rethink.
---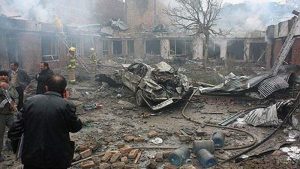 France 24 TV channel wrote: "over the past 16 years, Afghanistan has been a laboratory for a dizzying number of policy experiments to help secure the country. US troop levels have surged and ebbed, Taliban militants have been bombed and wooed to the negotiating table, Pakistan has been admonished and coddled to behave in its neighboring state, and the international community has cooperated and competed in the desperate bid to find a lasting solution to the Afghan problem.
None of them have worked and the situation on the ground for ordinary Afghans only gets worse.
According to the source, the policy muddle and its brutal consequences have been particularly stark this year, raising questions over whether US President Donald Trump's new Afghanistan strategy can solve or worsen the problem – or not make any difference at all.
On Wednesday, January 24, just days after Taliban fighters killed more than 40 people in Kabul's landmark Hotel Intercontinental, the militant group issued a statement confirming a recent peace meeting between a Taliban delegation and Pakistani officials.
The statement, issued in the local Pashto language, said a five-member Taliban team had travelled to the Pakistani capital of Islamabad to explain their position on a "political solution" to the crisis. "The Islamic Emirate [the Taliban] wants to emphasise that it desires a durable solution to the Afghan problem so all causes of the fighting are ended and the people live in peace and stability."
The TV channel further said: but peace was not in their sights three days later, when the Islamist militant group disguised a minivan as an ambulance, packed it with explosives, and detonated the vehicle at a busy thoroughfare in the Afghan capital, killing more than 100 people and wounding over 200 others.
It continued: the Taliban "peace and stability" announcement, issued as Afghans were reeling from the recent attacks, incensed a populace growing weary of the cycle of hypocrisy and violence in their country. On Twitter and other social media sites, Afghans slammed politicians and analysts who have, in the past, advocated negotiations with the Taliban."