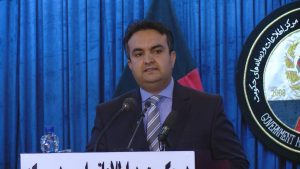 Afghanistan's ministry of foreign affairs, in relation to continuing offenses of Pakistani troops along both sides of Durand line, warns that no violation of Pakistani militants will be tolerated.
According to (DID) news agency report, Shakib Mustaghni, spokesman for the state department vowed in a press conference that transgressions of Pakistani militants along both sides of Durand line, are from launching rockets to military installations, which include Zabul, Qandahar, Nangarhar, Khost and Paktya provinces.
Spokesman for the ministry of foreign affairs warned that any violations of the border by Pakistani troops is not acceptable and if this process continue, the government will refer to its troops and people.
"The government of Afghanistan has offered all border violations of Pakistan to the UN Security Council and it is expected that by giving these documents, it will lead to the UN Security Council resolution against Pakistan." Mr. Mustaghni underlined.
The official of the state department stressed that the right to decide on Durand line belongs to the residents of both sides of the border, otherwise, No government has the right to decide about Durand line.
Authorities of Afghanistan's ministry of foreign affairs claim that the government of Pakistan, on the one hand conduct border transgressions and on the other hand, back terror groups, to provide its national interests.