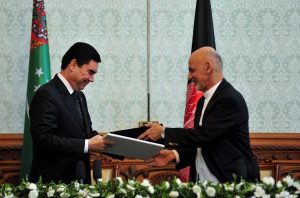 The governments of Afghanistan and Turkmenistan signed 7 agreements concerning bilateral cooperation in various fields at the end of a meeting on Monday between President Ashraf Ghani and his Turkmen counterpart.
The agreements signed between the two countries include bilateral cooperation in the field of education, transportation, railway network establishment, border cooperation, and other fields. According to (Wadsam).
The delegation led by President Ghani includes Finance Minister Eklil Hakimi, Minister of Economy Abdul Satar Murad, head of the administrative affairs Abdul Salam Rahimi, senior presidential advisor Dr. Humayoun Qayumi, senior presidential envoy for the Central Asia Mohammad Shakir Kargar, and senior presidential advisor for public relations and strategic relations Shah Zaman Maiwandi.