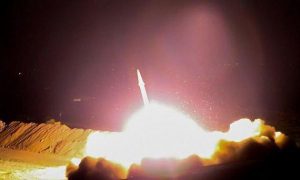 Iran reported the death of Abu Bakr al-Baghdadi's son in law in a missile strike on the positions of the terror group by the revolutionary guards.
Anadolu news agency quoted from Iran's state agencies that Abu Bakr al-Baghdadi's son in law, head of Daesh terror group was killed in a missile strike of the Iranian revolutionary Guards, to the ISIS headquarter in "Deir al-Zur" in Syria.
Field sources announced that all 6 missiles launched by the revolutionary guards hit main positions of ISIS group in Deir al-Zur Syria.
Daesh had suffered heavy casualties, it added.