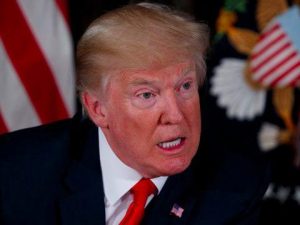 It is very important and necessary that we get Trump out of office; because he is an urgent threat to American people, said an environmentalist Tom Steyer.
"The fact of the matter is this President has performed in a lawless way throughout the campaign and throughout his presidency and he is an urgent threat to the American people," Steyer told CNN anchor Dana Bash on Sunday morning's "State of the Union." "So to sit here and wait doing absolutely nothing is the wrong thing to do. The American people want this man impeached."
Defending his $20 million campaign, the California billionaire and environmentalist Tom Steyer on Sunday called on the Congress to impeach President Donald Trump, saying "it's very important and urgent that we get him out of office."
However, some Democratic leaders, including House Minority Leader Nancy Pelosi of California and Minority Whip Steny Hoyer of Maryland, have said now is not the time for House Democrats to push for impeachment, fearing the upcoming election. Other House Democrats, however, have called for Trump's impeachment, with Rep. Steve Cohen, D-Tennessee, introducing articles of impeachment earlier this month.
According to CNN, Mr. Steyer denied on Sunday that his ad buy is driven by a desire to bolster his political brand, saying a main reason he is calling for Trump's impeachment is he believes the President has violated the Constitution by his actions related to the Justice Department investigation into whether Russia interfered in the 2016 election.
"It's clear that he has violated the Constitution in the sense that he's violated his trust with the American people through obstructing justice by firing the head of the FBI for what he said explicitly was over the Russia investigation," Steyer said, referring to the Trump administration's firing of James Comey in May. "He has taken money from foreign governments almost since the very first day that he took office. I don't think there's any question that he has, in fact, met that standard for impeachment."
Mr. Steyer, who made his fortune as co-founder of a hedge fund, has spent more than $170 million on Democratic politics over the past three years, according to the Wall Street Journal.