Slideshow
America's Army asking Additional Troops in Afghanistan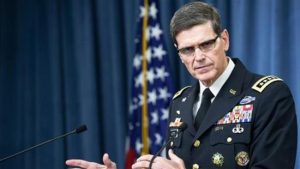 "As increasing America's troops in Afghanistan, the current strategy that often keeps U.S troops in the role of consultant should be revised." America's top military commander said.
Commander of U.S central command told congress of the country, to train and advise Afghan forces, probably more troops are needed in this country. Quoted from (BBC).
General Joseph Votel did not reject the possibility of sending more US troops to Iraq and Syria to fight ISIS, in Thursday's session of congress.
In response to a question of the Senate armed services committee to provide a solution to Trump's administration about the longest war in the history of America, he said: I Believe further troops needed to the mission of advising and assisting Afghan forces, to be more affective.
"As to increase American forces in Afghanistan, the current strategy needs to be changed too; the strategy that often keeps this country's troops in the role of consultant and according to that, American Commandos can enter war when they were targeted.