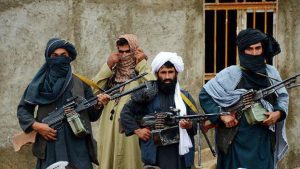 60 percent of western Badghis province in the country is under the control of Taliban terror group and the role of the top officials of that province is symbolic.
According to the deputy Badghis provincial council, governor, police chief, national security director and the army chief of Badghis province are blamed for this.
Farid Akhizi, deputy Badghis provincial council besides confirming the news, said: the mentioned officials cooperate with Taliban in all security affairs, and this issue is increasing day to day.
"Last year, 5500 Taliban insurgents were in Badghis province, but this figure has reached to 8 thousand," he said.
"In addition to Jawand, Bala-Murghab, and Qades districts, 50 percent of power control to security forces are captured by Taliban insurgents," he added.
"If this process continues, Badghis province will be controlled by commanders and prominent members of Taliban group by next month," he underlined.
Mr. Akhizi disclosed the names of the governor, deputy, and district governor of Taliban in Badghis province.
1- Mulla Abdullah, the shadow governor of Taliban for Badghis province.
2- Mulla Sheikh Ahmad was known as Abdul Karim, the Taliban's deputy governor for Badghis province.
3- Mullah Nazar Mohammad, the shadow Taliban's district governor for Jawand district.
4- Mulla Saleh Mohammad, the shadow Taliban's district governor for Qades district.
5- Mulla Noor M. Pahlawan, the shadow Taliban's district governor for Ab-Kamari district.
Badghis provincial council official adds that 3,500 Taliban members are only in Jawand district and 1 to 2 thousand insurgent Taliban follow their terrorist activities in other districts.
The provincial deputy mentioned to "Arab and Pakistani" Taliban and said: the statistics of these foreigners are 20 to 30 people who are in Bala Murghab district of Badghis province.
According to him, the presence of Arabs and Pakistanis in Badghis, is to manage the status of militarily training for Afghan armed Taliban.
On the other hand, Khalid Safi, Badghis governor adviser besides rejecting these words, says: "if any person said such things, is actually not a member of Badghis provincial council, but a spokesman for the Taliban group."
He asserted that Badghis governor, including other high ranking government officials in the province, serve for the welfare and prosperity of the people.
Dozens of development projects in the suburbs and Badghis center have been inaugurated and put into operation since the beginning of the governor's duty and other officials' activities in this province.
The role of the armed Taliban has increased in comparison with military forces in Badghis province.
A clear example is Pesta-Liq area in Badghis province which is under the control of Taliban since several years onwards.