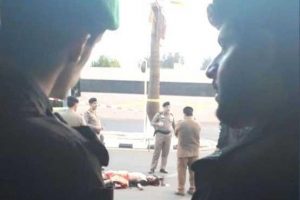 Saudi authorities Saturday evening confirmed reports that an attack to the royal palace in Jeddah had been foiled by security forces.
The spokesman for the Saudi Interior Ministry said two Saudi security Guards were killed and another three wounded in the attack on an outpost affiliate.
"At 3:15 pm on Saturday, an outpost of the Royal Guard, located in front of the western gate of the Peace Palace in Jeddah, came under fire by a person who got out of a Hyundai car and was immediately dealt with the Royal Guard men, that resulted in his death," Saudi official news agency (SPA) reported .
The attacker was identified as Mansur bin Hassan bin Ali, a 28-year-old Saudi national, who carried a Kalashnikov machine gun and three hand grenades, the spokesman said. qouted from foreign media.
The palace, where the royal family conducts official business during the summer months.
Meanwhile, the Saudi King Salman had officially gone to Russia.