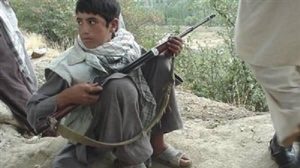 Security officials in Baghlan province have expressed concerns over the use of under-age people in the battlefields by anti-government armed oppositions, saying they use children to move explosives around.
According to earlier reports of DID news agency, Baghlan security officials have witnessed under-age people among the corpses of anti-government oppositions who were killed in clashes in the province.
"Government oppositions use under-age people in their activities which is very concerning," said Ekramuddin Sar'e, Baghlan's police chief.
"Anti-government groups use under-age people in many cases and the reason is, they are less suspicious," Baghlan's police spokesman Zabihollah Shoja told DID news agency, adding that "there may be also schools for training these children in areas dominated by anti-government armed groups,"
Meanwhile, Zarif Zarif, an advocate for Baghlan's provincial council says there are also 18-year old people among the anti-government armed groups.
"Children are affected soon and brainwashed," he added.
Although the Afghan human rights commission has repeatedly voiced its concerns about the need to end the use of children in war, using underage people still sensed at the battle fields by anti-government armed groups.