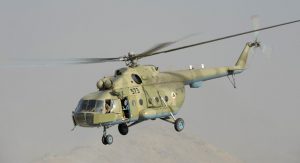 As a result of mistaken air raids by the army's air forces on a security headquarter in Helmand, 10 soldiers were killed and 9 others wounded, local officials in the South reported.
The incident occurred in Helmand's Greshk district when the air forces' helicopters mistakenly bombed friendly positions.
"The bombing took palace around 3:30 pm (local time) and the helicopters mistakenly targeted the security positions," Helmand governor Hayatullah Hayat told BBC.
The casualties of the security forces is not a new phenomenon in Afghanistan. At times, these soldiers have been victims of self-mistakes.
The American warplanes had previously targeted a police unit in Helmand province, killing at least 16 Afghan soldiers including two police commanders.
It is said that armed forces have launched a clearing operation against terrorists in Greshk district five days ago.
Helmand is among the most insecure provinces of Afghanistan and Taliban group have always had control on some parts of it.