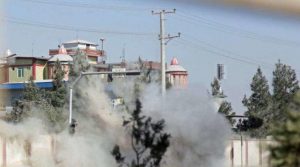 Finally, the security forces put an end to the assault on Shamshad TV station after 3 hours, the attackers were killed and the attack ended.
According to DID news agency report, gunmen entered central Shamshad TV station Tuesday morning and opened fire on the employees of the media, which as a result, 2 were killed and more than 20 others wounded.
"The attackers could enter the building using the hand generates and by detonating explosive could kill one of the guards," said Abid Ehsan, the manager of Shamshad TV station.
"All attackers had police uniform and after entering the TV station, opened fire on the employees," Mr. Ehsan added.
Meanwhile, a spokesman for the ministry of interior affair Najib Danish told media outlets that 5 people were injured in the incident, 4 were Shamshad employees and one other was a fire fighter.
Taliban rejected any involvement in the attack at the very beginning of the raid on Shamshad TV station, but Daesh claimed responsibility by publishing a statement on Amaq news service, which is said to belong to this group.