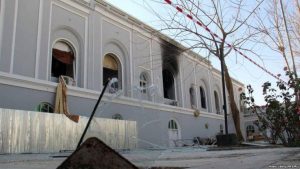 Probe result of the joint research commission about the attack on Kandahar guesthouse which is recently published by the Afghanistan national security, reveals that the attack has been designed in Pakistan.
National security directorate by publishing a report about how the attack conducted and the identity of the perpetrators on Kandahar guesthouse, where seven civilians, including six diplomats of the UAE, were killed, says that the design and planning of the attack was fulfilled in Quetta, in Pakistan and the explosive was taken into the guesthouse by a person named Sayed Mahbub Aqa, chef of the guesthouse.
The report also said that the explosive used in the attack were RDX and TNT, which were detonated remotely. The two types are explosive standard materials which are used to make military ammunition and explosive capsules.
It is said in another part of the report that Sayed Mahbub Aqa had traveled to Chaman (a border city in Pakistan) three times to get the explosives and the training to apply it. Those who gave him explosive and money are living in Pakistan.
According to the report, the government of Afghanistan and the UAE demanded the arrest and extradition of the perpetrators of the attack on Kandahar provincial governor's guesthouse, by submitting documents to the government of Pakistan.