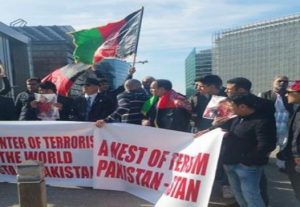 A number of Afghans based in Europe on Sunday staged a protest in front of European Parliament in Brussels against Pakistan's rocket attacks and violation of Afghanistan sovereignty.
Shan Pacha Shinwari, the one who led the protest told, Afghans based in different European countries and people from Pakhton Khwa took part in the protest.
He said the protesters condemned Pakistan's rocket attacks into Afghanistan and dubbed the neighboring country as supporter of terrorism.
The protesters passed a resolution and submitted a copy of the resolution to the European parliament. Quoted from (Pajhwok).
The resolution claimed that Pakistan provided safe havens to terrorists and continued supporting them.
"Pakistan has turned to be a cancer and if not restricted the entire world would suffer," the resolution said.
It demanded the European Union (EU) and its parliament to designate Pakistan a terrorist state and impose economic, political and military sanction.
They also demanded to stop Pakistan from the violation of Afghanistan territorial integrity in line with the bilateral Security Agreement (BSA).