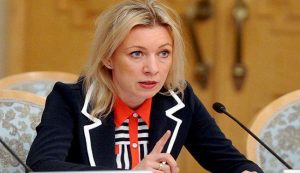 In response to Trump's speech on returning Crimea to Ukraine, Russian Foreign Ministry spokesman said: this island is part of Russia's territory and doesn't give it back.
According to foreign media, Maria Zakharova, spokeswoman for the Russian Foreign Ministry, speaking at her weekly meeting in Moscow reacted to the words of Sean Spicer "the spokesman for the White House" which said that Donald Trump "the president of America" insists on returning Crimea to Ukraine.
Crimea belongs to Russia and won't return it, foreign ministry Spokesman said.
It is said that tensions has increased between Russia and the United States of America on Crimea issue these days.