Crisis in Afghanistan has No military solution: MC's participants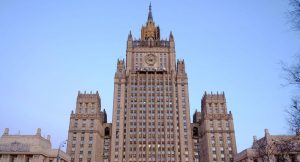 It was stressed on "Political solution" to resolve the crisis in Afghanistan, in a meeting, which was held in Russia with the aim to provide peace in Afghanistan, attended by delegates from more than 10 countries.
It is noteworthy that representatives of Afghanistan, India, Iran, Kazakhstan, Kirgizstan, China, Pakistan, Tajikistan, Turkmenistan and Uzbekistan had participated in the conference.
Participants emphasized on "national reconciliation" to solve the crisis in Afghanistan.
They stressed that Afghanistan's crisis has No military solution and the only way to resolve the situations is to achieve a national reconciliation through political means, in accordance with the United Nations Security Council resolutions.
On the other hand, Russia's state department by publishing a statement vowed that the US representative was also invited to the consultation, but did not attend due to unknown reasons.
The main issue of the agenda was to coordinate regional efforts to help advance national reconciliation in Afghanistan, in order to establish peace in the country as soon as possible. It had come in the announcement.
Participants of the meeting expressed concerns about the escalation of terrorist movements in the country, which lead to increasing bloodshed and problems of the people of Afghanistan while exchanging their legitimate and explicit opinions about the political-military status and prospect of Afghanistan. It was asserted in other parts of the statement.
Participants of the conference stressed that they back the efforts of the government and political and social forces of Afghanistan in order to establish peace, and declared that they are ready to help Kabul.
It was also asked from the Taliban to give up armed confrontation approaches and directly talk with the government of Afghanistan.