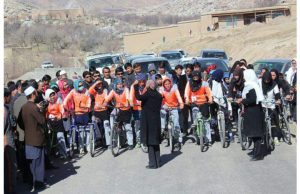 Bicycling race held between Daikundi girls, on the occasion of March 8th, international day of women solidarity.
According to (DID) news agency report, the race has been launched with the participation of 8 girls by the department of women affairs and financial support of Oxfam organization in Nili, capital of Daikundi province.
Zakia Rezayee, chairwoman of women affair of Daikundi, explained the aim of the contest, as elimination of unacceptable costumes and traditions and promote bicycling among the girls of this province.
Girls' participation from the central provinces, specially Bamiyan and Daikundi has lately increased in national and international sports event.