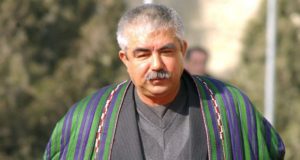 Sources close to first VP Gen. Dostum say Mr Dostum will soon come to Kabul.
Individuals close to General Dostum said that President Ghani has spoken with the General, and Mr. Dostum is scheduled to return to Kabul in ten days.
"Ashraf Ghani and general Dostum spoke on the phone, and Dostum will return to Kabul by the next ten days," said Abdullah Qurloq, an MP.
"Disagreements between the president and General Dostum have been resolved, and the two sides discussed the return of the first VP to Kabul in their telephone conversations," he added.
According to him, Ghani was expected to meet with Dostum in his recent visit to Turkey, but due to the sensitivity of the situation, the meeting was not held.