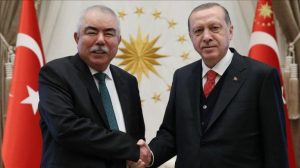 First Afghan vice-president and a senior member of Etelaf-e Nejat Gen. Abdul Rashid Dostum who was in Turkey met with Recep Tayyip Erdogan.
They met each at Turkey's presidential complex in Ankara, the capital.
It is said the visit was in the closed door and no journalists were allowed to the room.
General Dostum is in Turkey after a legal issue being politically motivated by the government.
According to Afghan political analysts, the meeting has probably a link with the return of general Dostum to Afghanistan and Turkey's stance on the differences between the president and the first vice president.
The issue that general Dostum will return to Afghanistan and attend a massive public gathering in Mazar-e Sharif had recently been hot.