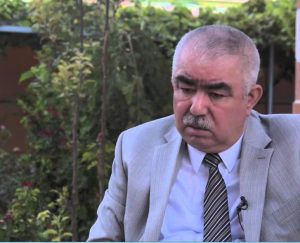 ًWhispers were heard that the house and office of General Dostum surrounded by the security forces, then a number of Media started to publish the news, but a few hours later, General Dostum attended a press conference and called it rumors. He talked a lot about important issues of the country, too.
Yesterday, he talked about peace and emphasized on the unity of the people and also reminded the country's security crisis. General highlighted Daesh (ISIS) and also warned about the presence of "hundred thousand irresponsible armed in Kabul" that according to him, will create problems, in case of chaos. Aside from these that Dostum even threatened a number of banks (Azizi Bank and Maiwand Bank) being rubbed or plundered by unknown sides in case of war. He also criticized media and accused his political friends and opponents of lack of commitment and persecution. Gen. Dostum also gave a political advice to the government in other part of his speech. With a mention to his other story, which was similar to Ahmad Ishchi's case that occurred at the time of Hamid Karzai, he somehow realized president Ghani that he cannot beat him.
According to his context words, it was concluded that he has stucked in a dangerous trap and a non-breaker fence. It seems that Dostum is seeking salvation of the dilemma by provoking the public opinion and a number of political forces and determined to end the quarrel that switched it himself.
Dostum's stance and speech looks spectacular these days. The person who was counted a "vote bank" one day and forced him to achieve his fan's votes by any means possible; but now head leaning against the wall of weakness and there is no such passion and enthusiasm to address president Ghani and say: "we sling such people".
The fact is that after the story of Dostum and Ishchi, national prestige of General Abdul Rashid Dostum, First Vice-President and in all the current government were under a lot of questions and sparked a lot of criticism and reactions. Those days, Western countries including the European Union and America emphasized to follow up the case and Afghanistan government also promised to inspect the charges on General Dostum and his Bodyguards seriously and "comprehensively."
Investigations of country's judicial system, eventuated in issuing a decree. According to that 9 bodyguards of Dostum must be arrested. The command that faced General Dostum's opposition.
As General Dostum's case in relation to abduction and sexual assault on Ahmad Ishchi is still under judicial system's microscope and not finalized, it is believed that General will use various ways until final verdict announced to prevent the deterioration of his political-governmental status and his ultimate failure, too.