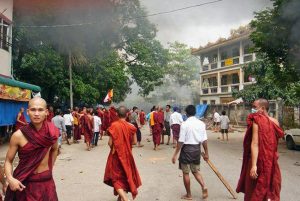 Bangladeshi foreign minister calls Myanmar government's actions against the Muslims in the country as 'genocide.'
Mahmood Ali, the Bangladeshi foreign minister called 'genocide' what Myanmar government forces committed against the Muslims minority in Rakhine state. AFP reported.
A large number of Rohingya displaced Muslims refuged to Bangladesh amid rising violence.
"The international community says this behavior in Rohingya is a genocide and so do we," Bangladeshi foreign minister told journalists in a press conference.
Yesterday, Mahmood Ali called for efforts to find a political solution to the crisis and to send humanitarian aid to displaced people in a meeting with diplomats from the Arab embassies and chiefs of UN offices in Bangladesh.
He told journalists that only in the recent two weeks, 300 thousand Rohingya Muslims fled to Bangladesh; so the whole number of displaced people reach to 700 thousand.
On Sunday, the organization of Islamic cooperation called on Myanmar government to fulfill its responsibility to human rights treaties and international law.