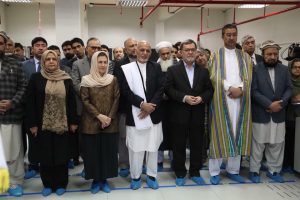 The electronic national ID card system was officially launched in Afghanistan on Thursday when President M. Ashraf Ghani, the First Lady Rula Ghani, the heads of both Houses of the National Assembly, the second VP, the first deputy to the Executive Directorate and National Security Adviser Mohammad Hanif Atmar were handed their cards amid all controversies.
The program of distributing E-ID cards launched when huge controversy raised in the country over inserting the word "Afghan" as a nationality for all ethnic groups and it is still ongoing.
At the end of last year (1396), when the presidential palace issued the release of E-ID cards, the country's CEO Dr. Abdullah, political movements and political parties criticized, arguing that the distribution of the cards is not appropriate in the current situation and it should be carefully reviewed.
The CEO Dr. Abdullah and the second VP Mohammad Mohaqiq were among those who opposed the government's decision to distribute electric identity cards.
While receiving the ID card, president Ghani called on the people to massively participate in the upcoming election.
He said the new ID cards would hopefully cut down on the number of fake IDs (Tazkiras) in the country.
The parliamentary and district councils elections is expected to be held on October 20 and according to the president, the presidential election will be held on May 2019.