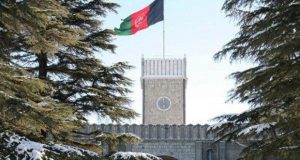 The government of Afghanistan confirms the death of "Abdul Hasib," leader of Daesh group in Nangarhar province.
According to (DID) news agency report, presidential palace released a statement that Daesh (ISIS) group that always resorts to killing the people and targets the civilian and non-civilian without any distinction, has recently been targeted by defense and security forces of the country and a number of their leaders were killed.
The presidential palace also said that IS leader with its several key commanders were killed on May 7th, during an operation which was conducted by Afghan Special Forces in Nangarhar province.
"The killed IS leader had given the order of attacking Sardar M. Dawoud Khan hospital," the statement asserted.
"The government of Afghanistan continues to fight against Daesh and all terror groups until eradicating these groups. The message of such operation is that no terror groups have a safe place in Afghanistan and will be suppressed and destroyed by defense and security forces, wherever they are." Presidential palace added.
"The government of Afghanistan has a clear stance against the groups that prefer war and do not accept peace, and it is that these groups will be suppressed and will never achieve their evil goals." The statement stressed.