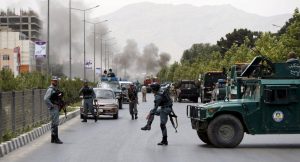 Security forces conducted offensive operations during past 24 hours, and destroyed 55 members of terror groups.
According to (DID) news agency report, The operations to suppress terrorist groups was launched in Nangarhar, Kapisa, Maidan Wardak, Kandahar, Herat, Baghlan, Jawzjan, Faryab and Helmand, 42 Taliban and 13 Daesh (ISIL) were killed.
26 people of these groups were wounded and 6 others were detained in these operations.
Meanwhile, country's ministry of defense confirmed the news saying, the operation which was launched in Dandi-Ghori of Baghlan province, the biggest casualties is related to Taliban members. In the operation 23 Taliban were killed and 18 others injured. In Kut district of Nangarhar and Nish district of Kandahar 13 ISIS fighters and 12 Taliban were killed and 6 others wounded.