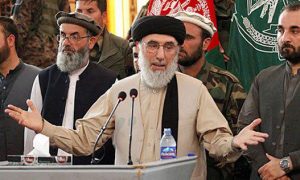 The leader of Hezb-e Islami Gulbuddin Hekmatyar who was speaking among his fans in Khost province Sunday said, he is against any "changes" in the election commission.
He also called for more Khost's share in the parliament than Panjshir, Bamiyan, and Daikundi provinces.
According to DID news agency report, Gulbuddin Hekmatyar, who was addressing among a group of his fans, said, he opposes any change in the leadership of the election commission.
Mr. Hekmatyar accused parties and political movements of disrupting the electoral process.
"The parties and political movements are seeking to overthrow the government in non-democratic ways," he said.
On the other hand, Gulbuddin Hekmatyar called for more share for khost province in the parliament, saying the population of this province is more than Bamiyan, Daikundi, and even Panjshir provinces.
Hekmatyar is known for expressing controversial views and his Sunday rhetoric will trigger controversies on social media outlets.