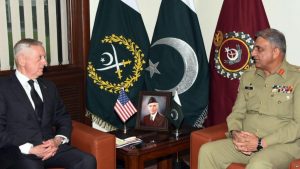 US Secretary of Defense James Mattis called on Pakistani military and civilian authorities to double their efforts to crack down on radicals who organize terrorist attacks in Afghanistan from the Pakistani territory.
Mattis met Monday with Pakistan's prime minister, defense minister and army chief of staff during his brief stop. The repeated theme was to find common ground to foster peace in neighboring Afghanistan to benefit the entire South Asian region.
Last week, Gen. John Nicholson, head of U.S. forces in Afghanistan, said Islamabad had not carried out the "clear" demands made by Washington.
Meanwhile, CIA director Mike Pompeo added Saturday: "We are going to do everything we can to ensure that safe havens no longer exist," if Pakistan does not heed the U.S. message on militants.
The Pakistani Prime Minister, Shahid Khaqan Abbasi, in a meeting with the US Secretary of Defense, said that "Pakistan is committed to the war on terror," adding, "no one is keen than Pakistan in bringing peace in Afghanistan.
According to analysts, the US harsh policy on Pakistan has become more flexible than three months ago, which suggests that Washington has not been accurate in its calculations on Islamabad.
Islamabad-Washington relations collapsed after President Trump accused Pakistan of supporting terrorist networks in its new strategy on Afghanistan and South Asia.