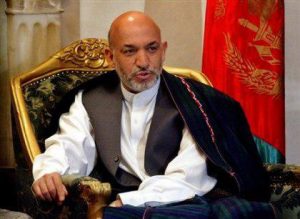 Saudi and Egyptian officials asked Hamid Karzai to back Riyadh stance against Doha in a meeting with Hamid Karzai.
According to (DID) news agency report, Muhib Nasr, the Egyptian ambassador and Mishari Alharbi, charged affairs of Saudi Arabia in Afghanistan met with the former president and urged him to support Riyadh and Cairo position against Qatar.
According to the statement, during the visit, the status of sanctions on Qatar and position of countries such as Saudi Arabia, Egypt, Bahrain, and United Arab Emirate have been explained to Hamid Karzai.
It is said that Mr. Karzia called for the unity of Muslim community and that he backs unity and solidarity of Islamic countries.
It is noteworthy that the relations of Saudi Arabia, Egypt, the United Arabic Emirates and Bahrain with Qatar have been tense following what has been called Qatar's support from terrorist groups.