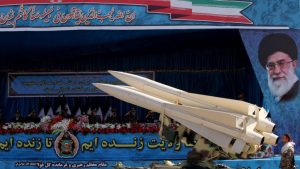 Iran has warned Pakistan that if Islamabad does not fight against religious militants across the border who intend to conduct scaremongering activity inside Iran's soil, they will be attacked in Pakistan.
Muhammad Hossain Baqeri, Iran's army chief of staff said that 'Pakistani authorities must control the borders, arrest terrorists, and destroy their bases,' Radio Azadi quoted from Iranian sources.
Terror attacks continue, and Iran will attack their circles and shelters wherever they are, according to Baqeri.
On the other hand, not long ago, Muhammad Jawad Zarif, Iranian foreign minister besides criticizing the Pakistani government over border actions, had said that drug traffickers and militants have activity along the border of the two countries and occasionally target Iranian security forces.
It should be noted that two weeks ago, armed rebels shot 10 Iranian border guards and then fled to parts of Pakistan.
Salafi insurgents (Jaish ul-Adle) took the responsibility of the attack.