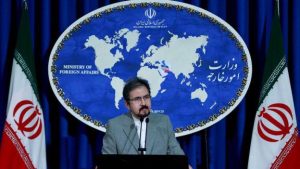 Tehran in reaction to recent statements made by Saudi Crown Prince who read the Iranian leader as "new Hitler" said: "recent remarks of Mohammad bin Salman is immature, absurd, and ill-assessed."
The Iranian foreign ministry spokesman Bahram Qassemi advised the Saudi Crown Prince Mohammed bin Salman to think about what happened to other regional dictators.
In an interview with New York Times, the Saudi Crown Prince Mohammad bin Salman strongly criticized the policies of Iran and the country's leader Ayatollah Sayed Ali Khamenei.
"Iran's supreme leader is the new Hitler of the Middle East," the crown prince declared in a Thursday interview with the newspaper.
"We learned from Europe that appeasement doesn't work," he said.
"We don't want the new Hitler in Iran to repeat what happened in Europe in the Middle East," he added.
Meanwhile, Bahram Qassemi said: "The mistakes made by the adventurist Saudi crown prince, including his latest scandalous interference in the internal affairs of Lebanon which used to be the traditional ally of Saudi Arabia, have put the kingdom in deep trouble."
Relations between Iran and Saudi Arabia have never been normal since the revolution in Iran and the approach of the Islamic establishment, but recently relations between the two states have sharpened over the crisis in Syria, Yemen and Lebanon.