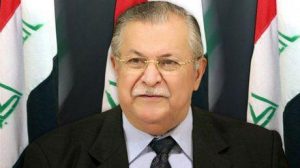 Iraq's former president Jalal Talabani died at a hospital in Germany, aged 84, Iraqi Televisions announced.
Talabani born in 1933 and was Iraq's president from 2005 to 2014.
Following a severe stroke in 2012, he went to Germany for treatment, then returned to Sulaimaniya airport from Berlin's airfield on July 19, 2014. But again, he traveled back to Germany after his health rapidly deteriorated and went to coma in one of the country's hospital.
The former president of Iraq was also the leader of Iraq's Kurdish patriotic union between 2005 and 2014.