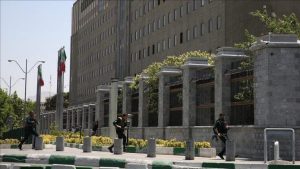 Yesterday morning, Tehran witnessed two scaremongering attacks in the House of Representatives and Ayatollah Khomeini mausoleum.
Several scaremongering groups have entered Tehran yesterday morning, according to Iranian media sources.
It is said that 13 people were killed and 52 others wounded in the incident.
According to IRNA, these groups of scaremongers first opened fire on people, then committed suicide.
The first attacker blew himself up in the Mausoleum of Ayatollah Khomeini and the second in the House of Representatives.
Meanwhile, Iran's general director of anti-terrorism has reported that several terrorist teams entered Tehran, which one of them was arrested before conducting any action and the other team was targeted in the Mausoleum of Ayatollah Khomeini.
"Other two teams targeted the mausoleum of Ayatollah Khomeini and Parliament building, that one attacker was shot dead before doing any action by guards of Ayatollah Khomeini shrine and the other suicide attacker blew himself up." He added.
On the other hand, Iran's interior affair minister ordered forming extraordinary meeting in Tehran to address the events.
Daesh (ISIS) group has claimed responsibility for the attack, publishing a video in Amaq site.
However, yesterday (early in the morning) the Saudi foreign minister wrote on his twitter page, before the suicide attack in Tehran that Iran should be punished due to involvement and backing terrorism in the region.