CEO Abdullah Abdullah and president Ghani have not succeeded in having a defined relationship with the two powers which have a major influence on Kabul.
---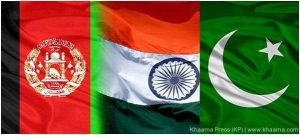 Afghanistan is a landlocked country but located in a strategic point. This country attaches Central Asia to Southern Asia and Eastern Asia to Western. Afghanistan has the role of a corridor for regional countries; as the historical silk route and other regional trade high ways went through this path. Political problems and Instability often attributes to the country's strategic position as superpowers have always pushed to have control over Afghanistan in order to expand their political and ideological power in the region.
After the fall of the Soviet Union, Afghanistan faced a civil war among Mujahidin groups which was backed up by neighboring countries. Finally, Pakistan created Taliban group and supports it. The group had control over a large part of the country's soil until it was collapsed by Americans in 2001.
Yet, India and Pakistan have a long hostility since independence. Both seek to improve their status and protect their interests in Afghanistan as the two countries have nuclear weapons and purchase war technologies. They cooperate with powerful countries and every movement seems risky by each country.
In Post-Taliban government, India has had a significant role in reconstructing Afghanistan by $2 billion aid along with other donor countries. New Delhi focused more on infrastructural, development projects, capacity building, agriculture, food security, health and educational scholarships.
On the other side, Pakistan which it is dependent on US and China's security and development assistance, has failed to play its role in Afghanistan. In other words, Islamabad believes that a stable Afghanistan will be beneficial when it is under its control and has limited relations with India. Pakistan sees an expansion of Indian relations in Afghanistan as part of its strategic policy against Pakistan's foreign policy. It can be said that Islamabad suffers from close relations between Kabul and New Delhi.
Former Pakistani President Pervez Musharraf told AFP that India's influence in Afghanistan is a serious threat to Pakistan. The Pakistani Ambassador to the United States also said India's performance should be clear in Afghanistan.
However, Kabul does not expect Pakistan to have Indian aids to Afghanistan, but it wants Pakistan to end its hideout for the Taliban, the Haqqani network, and other terrorist groups. President Ghani has repeatedly asked Islamabad to end the unannounced war in Afghanistan and destroy Taliban and Haqqani network havens in its territory.
Pakistan's Strategic policy not only failed but also it put Islamabad in a bad situation. A situation in which the country will not be able to continue its duplicity and support for the Taliban, the Haqqani Network and other terrorist groups on its soil while it expects US military aids as well.
The US Congress and former US diplomats have proposed that all assistance should be halted to Pakistan and that economic sanctions be imposed on the country to be isolated if Islamabad does not change its policies.
Pakistan should take the backing of its former military ally; an ally that has provided military and financial assistance to the country for many years. Islamabad should not be sensitive to countries having relation with Afghanistan.
New Delhi is an example of military assistance to Afghanistan. However, Islamabad has often claimed it seeks stability in Afghanistan.
President Ghani has pushed to establish a good relationship with Islamabad since taking office but his efforts were useless. Presence within India-Pakistan policy circle has involved Afghanistan as well; because CEO Abdullah Abdullah and president Ghani have not succeeded in having a defined relationship with the two powers which have a major influence on Kabul.