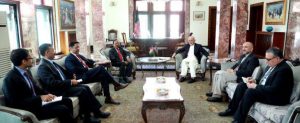 President Ghani and the Indian national security adviser Ajit K. Duval met at the presidential palace and both sides emphasized on strategic cooperation.
According to ARG's press release, the two sides considered the new US strategy as a good ground to bring peace and stability, adding that the opportunity should eventuate in peace and stability in the region.
India and Afghanistan have warm relations and New Delhi has helped Afghanistan in different sectors.