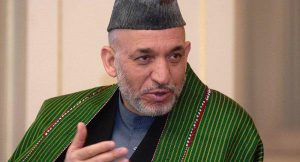 Hamid Karzai, former president says that the United States will not succeed without the cooperation of neighboring countries in Afghanistan.
"The United States should play its role in bringing peace to Afghanistan, because today Afghanistan is far more unsafe than in previous years," ex-president of Afghanistan in an interview with C.C.T.N said. Quoted from (Sputnik).
Mr. Karzai says that a new coalition should be formed. America should look for other countries and powers of the world and all neighbors of Afghanistan including China, Russia, India, Iran and Pakistan should contribute, otherwise, the U.S cannot do anything without the cooperation of the neighbors of Afghanistan.
Karzai criticized the U.S operation in Afghanistan once again, saying that America came to Afghanistan with the false invitation to fight the terrorism and providing security, but did not focus on what it did.
The former president says the United States has not worked on the fight against terrorism, since the Afghan war was a general strategy in the context of regional operations, and today, terrorist sanctuaries are still in place.
He talked about his relationship with President Ghani, "I have a good relationship and I wish the best for him in the success and development of democracy, but there are some differences in some issues."
Karzai says that you cannot deny that Afghanistan is safe and that there are some who equip and finance the Daesh group and when the United States claims to fight extremism, but it has not diminished, then something is wrong or they do not know how to fight extremism.
He noted that extremism is a tool, and if we look at the past, the United States used it as a tool against the Soviet Union.
On the other hand, concerning the closure of High Peace Council's office, Karzai said that we wanted to create an office for the Taliban because of the continuation of peace talks inside or outside Afghanistan, but we had the Islamic Republic of Afghanistan and the Taliban opened the office of Islamic Emirate in Qatar, which meant one country and two powers, so we stopped it.