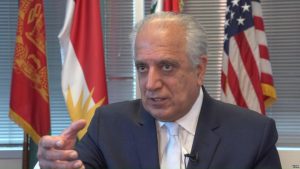 Zalmay Khalilzad, former U.S ambassador in Kabul and the United Nations says that if Pakistan involvement in the recent Kabul attacks is proven, America needs to seriously review enlisting Pakistan in the list of States sponsor of terrorism.
According to (DID) news agency report, "if Afghan government's claim that Haqqani network and ISI had involvement in Wednesday deadly Kabul attack at Zanbaq square is proven, it is necessary that Donald Trump's administration should take serious discussion to put Pakistan among States sponsor of terrorism," Mr. Khalilzad told in an interview with (VOA).
Mr. Khalilzad also added that diplomatic, economy and political pressure on Pakistan which have been applied by the United States in the past 16 years did not bring the desired results, therefore, the Afghan government and international community, specially America need to take stronger and wider measures.
The statements of Zalmay khalilzad are expressed while the government of Afghanistan is going to host a meeting under the name of "Kabul peace process."
It is expected that representatives of 21 countries and two international organizations will participate at the meeting.