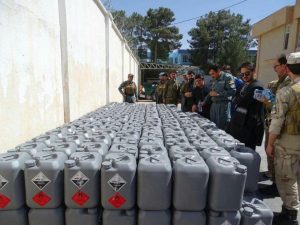 Large chemical goods was stopped at the outskirt of Herat city by the police.
According to (DID) news agency report, the consignment was consisted 1000 barrels of anhydrous acetic acid, which was transported to the south of the country in a container using carrier vehicles Monday, according to Herat police statement.
The statement says the total value of the goods is more than 10 million US dollars, which is most commonly used in producing and processing of heroin.
The driver was arrested and the police investigation has been started to find his accomplices.
Herat police occasionally report stopping drug consignment in the province.